We offer disposable Liquid Transfer funnel to transfer any type of oils & paints where transfer of fluid is required to eliminate any kind of contamination that occurs when lubricants are transferred through dirty reusable funnels. We offer these funnels in various customized sizes to suit the specific needs of our customers and supply them in India & Globally.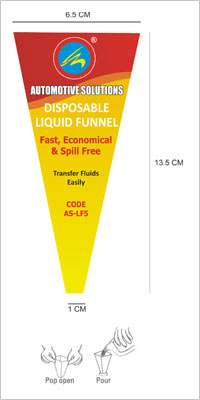 Advantages of Disposable Liquid Transfer Funnels:
No Contamination.
Spill Free.
Quick Transfer.
Coated Paper.
Requires less storage Space.
Available in customized labels & packing.
Size 13.5 Cms & 22 Cms
Why Opt Us?
Automotive Solutions is a professional and experienced manufacturer & supplier
of high quality Disposable Liquid Transfer Funnels, catering to the needs of OEM,
Automotive & Aviation Industry in India. At Automotive Solutions, our disposable
liquid transfer funnels are designed to give very high refined quality finish.
USP Compositions:
Adhere to the International Quality Standards
Highly Competitive
Professional Consultation Facility
Our Application Areas:
Oil Companies
Automobile Workshop
Aviation Industry
Workshops